Insights
10 Mar 2023
Is Generative AI redefining Marketing norms or Crumbling them?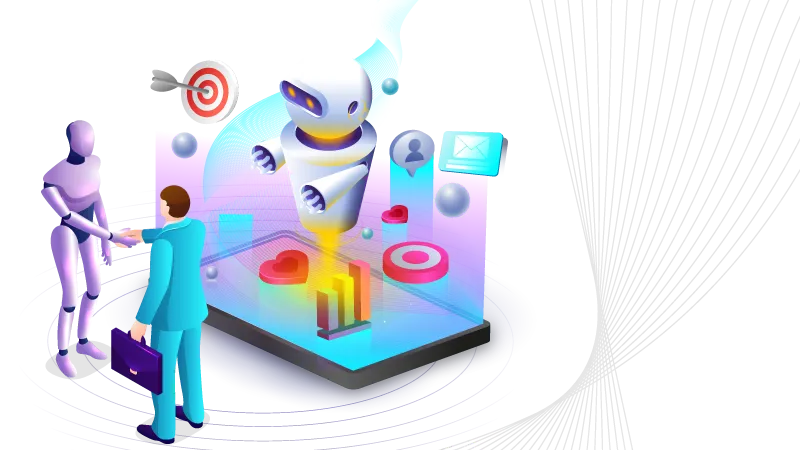 Who writes the rules of marketing? The fictional story of AI was narrated and desired by scientists in such an unreal way. Today, it is a wrapped reality that fails to distinguish between AI generative reality and actual reality. While every marketer's day is fidgeting with automating strategies and optimizing outcomes for brands, could we say it has somehow overshadowed the creative ways of conventional marketing?
A study by Mckinsey, stated by Forbes, described Marketing as the second functional unit of a business after sales that would have the most significant impact from generative AI. It won't be a good time for marketers and creative advertisers to operate indifferently to transformative technology. But those relentlessly relying on generative tools are one step away from crumbling down their creative juices and pumping up the marketing game.
Stock prices increased when Buzzfeed announced commandeering ChatGPT into their content creation process. It became a favorable choice for investors advocating cost cuts by letting go of half of the content creation team. People must realize that the entire process must be in tandem with existing humans inside the organization. Technology doesn't exist without humans orchestrating the trail for automation to take place.
The speed and time constraints impede businesses from soaring higher and swaying consumers. This eventually led to Creative Automation, slowly disrupting the norms of the marketing world rather than redefining it. While many brands have used the concept of holistic aid to humans through AI rather than replacing their creativity, it is instead an unwinnable argument.
The way ahead with Generative AI
Automation is the new world order, as most digital marketing agencies have made peace with their day-to-day reliance on generative AI for basic content creation. It is more of an ad-hoc implementation. But what about executing more significant projects and plans of action through the competence of AI? As we interpreted this situation, the 'seismic' technology presented repetitive content for similar keywords, contributing to several areas for improvement.
It would be wrong and misleading to state that Generative Machine Learning isn't enhancing the creative side of Digital Ads. But incidences of authenticity and duplicity of AI-produced content are the big elephant in the room. Yes, the possibility of creating customized content immensely escalates, but the formidable quality raises questions about the validity of this tech. AI overrules the nuances that make content creation highly time-consuming. Hence, the ultimate step is deftly balancing the scale between technology and humans to produce experiential creative outputs for consumers to submerge.
With SEO services playing a major role in the marketing show, marketers have created creative content that repeatedly manipulates rankings. It violates Google's spam policy. But the use of Generative AI in marketing have proffered excellent results. Their aptness and intricate details lead to successful experiments.
Where are we moving to?
The problem statement is "We are yet at the initial phase of learning to integrate AI completely into Marketing." But the solution seems to be more apparent than ever. Content creation as part of digital marketing services or the consistent in-house marketer's effort needs the scrutiny and insight of humans to achieve a more democratized and creative outcome from Generative AI.
It is a companion to conventional marketing, redefining how creative advertising can maximize the spent bucks. Still, humans' emotional intelligence and experience are only possible for AI if there is yet another revolution for marketers to grasp. Every step forward into marketing with AI is reimagining a creative and artistic way of engaging consumers with stories and experiences that stay revolutionary. But with things left for AI to handle solely, marketing would crumble. It's a coherent and collaborative way forward for digital advertising, marketing, and content, in general, to succeed for businesses.