Mobile App Development Services
Helping you cultivate high-performing mobile apps with the best version of the technology
90% of screen device users rely on various applications that aim to offer convenience--- shopping, playing, reading, watching, and more. Dart Digital Agency is part of this ecosystem, delivering highly-transformative mobile applications through technology that elevates the user's experience. We are the best mobile app development company driving innovation in creating software applications that elevate brand performance with a tailor-made solution.
Mobile application development is a popular choice for brands in various business domains. This enables them to develop original ideas and engage consumers with relevant solutions. Whether it is shopping for groceries, clothes, or banking, the most renowned brands worldwide have mobile applications for every purpose.
Mobile App Development Company
Large enterprises, startups, and mid-size businesses have seen the development of excellent ideas through Dart Digital Agency. Our mobile app developers and UI/UX designers have extensive expertise in developing mobile apps, irrespective of the platform.
With your brand's share needs and requirements, our iOS/Android app development company prepares a strategy to ensure smooth mobile, tablet, and desktop functionality. We are an end-to-end mobile app development agency responsible for your project, from ideation and implementation to branding.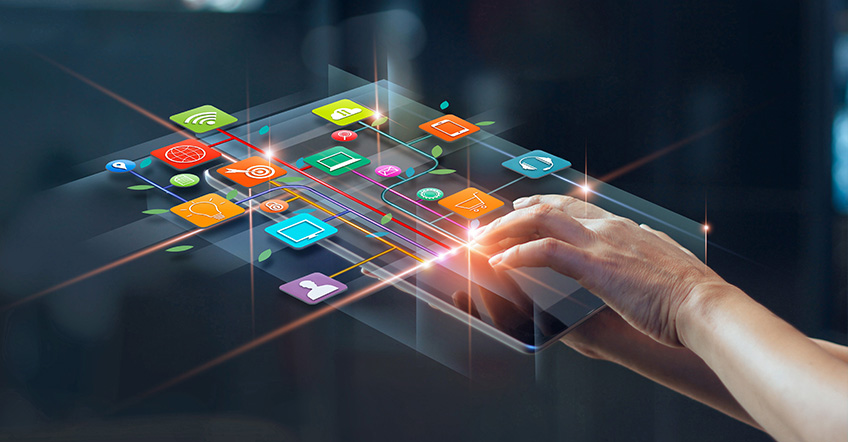 Our Typical process
We are innovating the most secure ways of developing a mobile app for our clients by following a definite process to go ahead and deliver the outcome:
Ideation

The first step is for us to research your product and gather the expectation from our client

Design & Development

Creating the design layout with the help of our efficient UI/UX designers, and then our coding ninjas take the stage to begin coding the logic of the app

Maintenance

Post development, designing, and testing, we help your team manage the app and guide you through all the enabled features making and keeping it away from all the bugs
Quality Testing

Now we test the app to check on the functionality and user experience
Services under Mobile-App Development
We develop an intuitive mobile app with a probability of higher customer retention and employ it over different services that include:
Prototyping & Wireframing

Native App Development

Backend System Integration

Quality Assurance & Testing

Maintenance and Management post-development

Cross-platform App Development

User Experience & Product Design
"Working in sync with the most potent of tech to make your mobile app dynamic"