How can PPC Marketing Services be a silver lining for an SEO Strategy?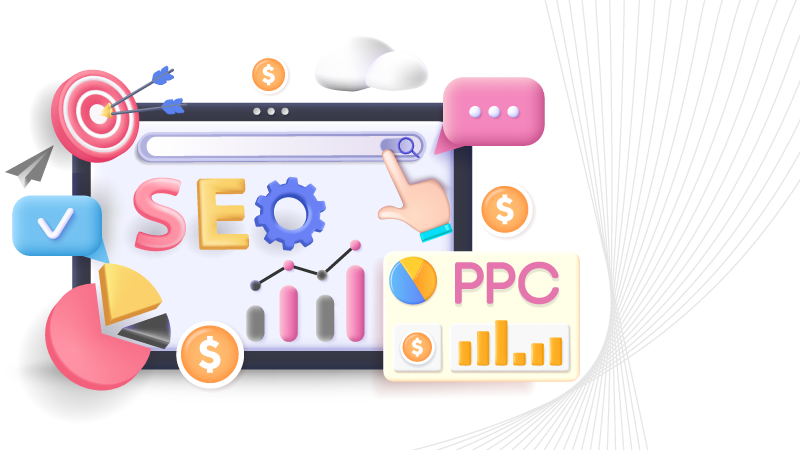 As modern-day marketers, the PPC strategy has bugged us over the years. It is the most efficient way to get traffic on your website and move them up in the conversion hierarchy. However, not all clicks are intended for a particular purpose, and others are just quenching their thirst for curiosity. Per the widely-known logic behind PPC Marketing, it affects the pocket where one click means sparring some bucks.
So, are they worthwhile? In a word, yes. As with any other digital marketing game, the right PPC marketing services must have a breakthrough strategy that makes every click worthwhile. It might be a shock, but several businesses have yet to determine whether they are placing the correct finger on their target persona. They choose to rely on their guesswork, and hence there is an error in judgment resulting in wasting resources on the PPC campaign.
This is a common blunder, but we will go down that rabbit hole in our coming blog series. For now, we will speak of the basics, which indeed encompass the impact of PPC marketing on an established SEO strategy-heard about marketing qualified leads? PPC Marketing & SEO strategy follows a similar path. We will tell you how? Sales and marketing must align for any brand to see its effort bring fruition.
After pouring every ounce of your strategic thinking on the web, leads are an assured aftereffect. What goes wrong is the need for more articulation between marketing & sales teams which is visibly reflected in the quality of leads. The strands are similarly tangled for PPC & SEO, and both are to walk parallel to get a clear picture of whether the campaigns are out to work. When every fight is to get your target customer to pay attention, things need to match. And hence, PPC impacts how your long-term SEO would look like.

The reflection of PPC on SEO: Do they work together or opposite?
As per the statistics of 2022 reported by Oberlo, Google processes about 8.5 billion searches per day and 99000 searches every single second. Since PPC marketing services are obtained as part of the search marketing strategy, imagine finding your way in the thick of these many daily searches. Hence, synchronization between SEO elements must occur before investing a potential sum into a paid advertising campaign.
As much as PPC & SEO appear exclusive in themself, they are to meet at some point for a search marketing arrow to land on the right target. The complete picture of SEO entails meta descriptions, backlinks, meta tags, review posting, and more to appear on the dream rank- First on Search Engines. The conjugation of PPC & SEO indirectly emphasizes one over the other. So here is where the silver lining appears in this equation:
Experimenting with the Keywords for Long-term SEO Strategy
Keywords are the crux of a good Search engine optimization service. It takes much analysis to add value to your website and quadruple its visibility. The websites you see ranking on the first page for an extended period stay consistent and have a better methodology. But deriving organic results from SEO takes time; Rome wasn't built in a single day. But to gauge the efficiency of your targeted keywords in less time, a PPC campaign aids big time.
Experimenting with a few keywords in the PPC campaign enables you to analyze better what's working and what's not. You will practically be sitting on a pile of data with the exact knowledge of what your target buyer is searching for on the search engine. The by-product is better decision-making and an effective SEO strategy for long-term brand visibility.
Getting more space over SERP
PPC ads usually appear on top of the search engine page before the organic results do. The method may differ depending on the advertiser's choice of a campaign ad. However, this is the most common. What gives an edge here to your brand is the capturing of space on SERP twice. The ad spent on PPC might cause your consumer to ignore and move towards organic results (most of us do it!). But as soon as the visitor moves towards the organic result, they see your brand listed again, prompting them to click the link. Hence, PPC indirectly impacts the user to move to your website and influences your SEO methods for organic results.
Doubling the Click-through Rate & Conversion metrics
As we said, the more space you occupy, the better it gets for your sales. The result of PPC campaigns indirectly influencing your organic SEO method causes your consumer to stay and complete a specific action they are to perform. It could be a landing page that ultimately incites your consumer to buy from you, and the conversion metrics are a breakthrough.
Better Content Creation Strategy
Every PPC campaign has an ad copy with the targeted keywords. So every time you launch a campaign, it gives you insight into what content is working and what could improve. This gives you an exact strategy to implement in terms of content creation for SEO. For instance, it helps to know what meta description and titles would assure clicks, and as a result, you will have a comprehensive view of a bulletproof content strategy.
PPC and SEO integration can change how your conversion strategy works. When you have the right content paired with the knowledge of your target consumer's level in the sales funnel, the sales action and customer retention rate are bound to make a noise in the market.