2023 Trends in Web development to design a digital experience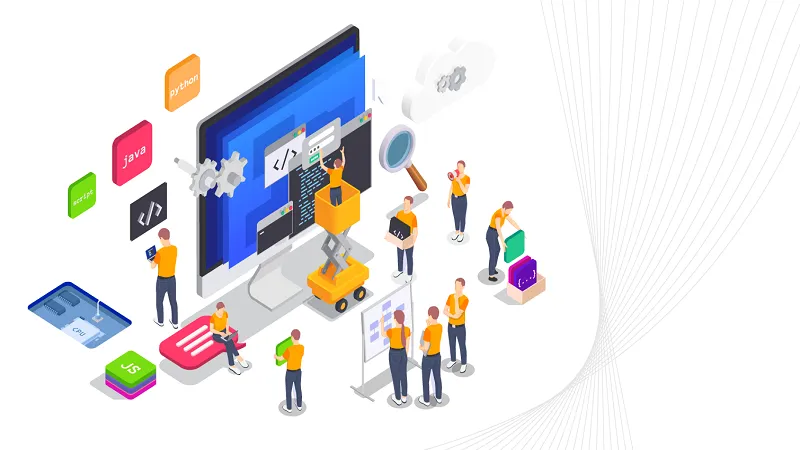 Table of Contents
The web's progression since the 1980s has been a cumulation of revolutionizing technology, each contributing to building an expanded horizon for personal & professional advancement. From its first origins to when web-based applications & websites were an ecosystem defining a business's existence, users' convenience & expectations conformed to better functionality, improved responsiveness, and seamless accessibility.
Websites & web-based applications are the future of enhancing digital interactivity shaping how users engage and quickly feel their need for information met with higher efficiency. With the advent & surge of better web development frameworks like Laravel development services, React, Angular, and more, developers have gained the ability to streamline the complete development process.
In the digital landscape, brands must seem more technologically relevant, meaning websites come under the radar to qualify a company's existence and sustainability. In an era where trends become obsolete faster than their emergence, web development companies need to keep up with the pace of change stuck at the intersection between the old world order and the present web phenomenon.
After carefully deducing several ongoing and emerging trends rounding up the digital industry, we found these top ones to secure growth for brands and agencies on an equal footing, creating a dynamic web of the digital playground.
Serverless architecture
For growing agencies and organizations, managing the architecture of an evolving technology ecosystem becomes quite a chore, especially when building web-based applications. Developers can benefit from Serverless Architecture because it reduces their need to manage infrastructure.

Using cloud-based technology, this recently emerging option could run code for virtually any application, simplifying web development. Meanwhile, it would give the user the flexibility to scale an application based on their needs.

From an organizational perspective, websites could manage increased traffic without system overloading.
Technology will see an estimated rise of $36.84 billion in 2022, while big names like Microsoft have already embedded it into their organizational systems.
Progressive Web Apps (PWAs)
Operating in a mobile-first economy, businesses must get creative with their websites and applications to offer users efficient access to information with equally excellent performance across platforms and devices. PWA came through before 2023, but it would likely continue as a trend for all the right reasons. It offers users feasibility, efficiency, and an app-like experience encompassing less website load time, push notifications, and offline accessibility.

Beyond the technology's ability to utilize next-generation web technologies like modern APIs, it offers developers the easy-to-build feature and brands the leverage to skip the need to build a separate smartphone application.
The ideal solution would be to give businesses a seamless user experience across all devices, similar to a native web app.
AI chatbots
Artificial Intelligence is the talk of the tinsel town, giving technology a massive breakthrough and defining convenience in a new light for users. Like AI innovation in each industry and department of an organization, customer service is where it is most proficiently adopted to enhance customer experience while significantly reducing the number of customers leaving and allowing faster resolution to queries.

In 2023, web development trends will see the rise of better technology as AI bots can use better techniques for answering the customer through speech recognition and natural language processing. It would improve the efficiency of data retrieval, which improves the possibility of answering frequently asked questions.
It even reduces the cost of human resources for customer assistance. However, implementing a hybrid approach with humans & chatbots attending to customer queries would ensure a more digitally seamless experience.
Accelerated Mobile Pages (AMPs)
Among all the other popular trends in web development, the one aimed at improving the mobile experience is where the money is, and businesses that realize it are on the path to more leads and better customer retention through an experience that keeps them brand loyal. Most users surf websites on smartphones and abandon slow-loading pages.

With AMP in the picture, a website becomes mobile-optimized, especially in content & text. Technology enables web applications to load lightning-fast.

It profoundly affects the bounce rate caused by slow loading speeds of a website while also improving other metrics, such as conversion rates from the website itself, when the ads are optimized utilizing AMP.
Voice UI
Web app-based accessibility is increasing, and brands leveraging this area are getting all the buck into their lot.

Voice User Interface technology is a growing market trend, only rising with better features and convenience.

Google's Voice Search Insight report of 2018 described 27% of users utilizing voice search on smartphones, and it has only grown higher.

As the market sees more voice assistants and IoT devices taking the rounds, websites would have to have voice search features for a better experience, creating the possibility of better ranking on search engines.
Motion UI
The better the UI/UX, the richer the website becomes. Motion UI combines all the dynamic transitions and animations on a webpage to make it more interactive and responsive for the user.

This component offers web designers & developers the flexibility to utilize pre-defined animations, where an element could slide, spin, transition, and bounce.

A web developer can integrate it with any web technology with ease. This SAAS framework has the potential to illuminate all prominent CTAs on a website while simplifying the UI process.
An After Thought
As technology gears up for better outcomes and possibilities, web-based applications will evolve as per industry and user demands. This is where developers and brands simultaneously need to reimagine the areas where remarkable byproducts give each user an experience where they would likely feel the need to associate with a business for all the right reasons. The initiation would come from a company's digital home-its Website.