Interactive Design and User Experience Design
Developing human-centric designs that build experiences through seamless interactions
Great design is beyond just appearance. It has excellent functionality when users interact with the product/service, resulting in a more enjoyable experience. As a UI/UX design company, we enhance brands' competitive advantage through exceptional digital experience design. We are the martech experts who understand the efficiency of a digital product or service when it coincides with consumer value and need.
In the world of digital, everything counts through experience, and it rates product success. With an in-house cohort of virtuoso designers marking the digital success of a brand through its interface, we ensure we understand what your users want. We synthesize cognitive, human psychology, communication, and usability elements to create an interactive design directly proportional to the improved interaction between the brand and the consumer.
UI/UX Design Services
From web apps to mobile apps and a brand website, our UI/UX design service company strategizes and builds on a user experience design. This enables a brand to leverage three essential features— form, function, and technology- to capitalize on a product/service. Hence, developing a dialogue between the consumer and the brand that serves brand positioning and revenue.
We make your brand an experience by designing an experiential journey for the consumer as they interact with your business, with technology at the core of it. From placing content to planning a digital strategy, user experience drives our creativity and purpose.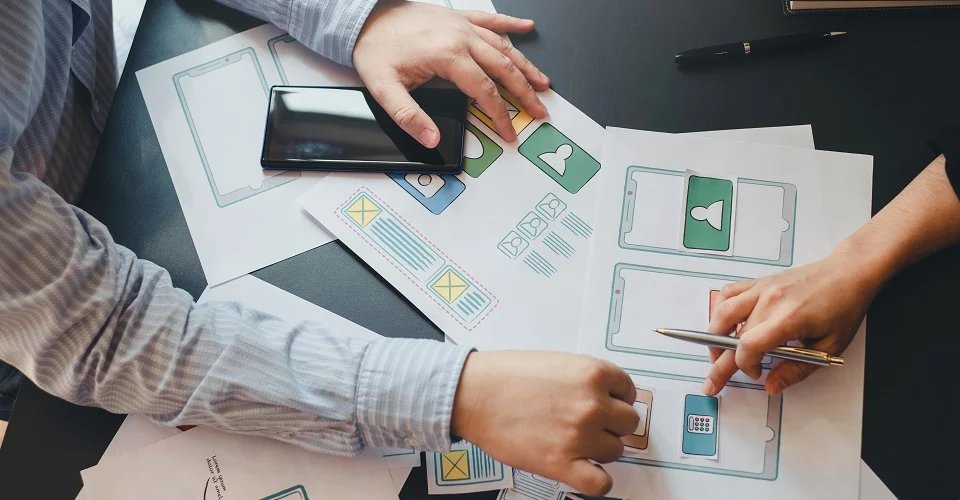 Our Process for Interactive UX Design
Your business goals remain a prime feature of every UX strategy we formulate and imagine how to satisfy your consumers' needs. Whether it is your website or simply an app, it is all part of your brand identity. The better we make it, the better the experience becomes.
Our approach to your brand takes the broad direction of UX design, and interaction is one subset we fix:
Brand understanding

Meticulously studying your brand and identifying UX goals.

UX Research

Insights are gained from understanding users' wants, searches, interactions, and emotions.

Ideation

Ideating solutions to create the best user experience through better features, design language, and a complete package of elements.
Creation

Implementing the solutions based on the strategy, insights, and collective blueprint formulated for an end-result

Prototype Testing

Testing the prototype with a subset of users to identify and analyze the level of interaction, the difficulty level of utilizing the product, and the complete experience

Iteration

Create an innovative strategy and optimize the service/product for a better experience in the future.
Why us for UX Design?
Experience project and brand designers with a vast knowledge of creating frameworks per the user needs and trends

Best in-house researchers for deriving a value-appropriate understanding and profile about the concerned user

Cost-effectiveness that justifies the quality and comprehensiveness

Direction-appropriate designers & marketers to catch the wave and purpose and align the project to it
It's just the brand expression made more impressionable with an experience encompassing all senses and stimulating a reaction amplifying brand growth.