Digital Marketing Strategy Development
Demystifying brand growth through a structured and direction-appropriate marketing approach
A brand's value can be optimized under a solid roof that withholds calamities and ensures future growth. Growth acceleration only seems possible when the direction and path are readily apparent. Dart Digital Agency does more than create a strategy. We build a detailed system for every step— from brand awareness to brand visibility and a coherent brand image.
Internet marketing doesn't flourish with conjectures and speculations. It runs on a framework with mechanisms working in tandem to achieve a desired goal. Digital marketing is our forte. With a zeal for everything digital and technology-centric, we believe in innovating for every challenge.
Digital Marketing Strategy
Our digital marketing strategy encompasses interrogating, analyzing, brainstorming, designing, implementing, observing, improving, and reporting on metrics that transcend expectations. Before leaping to action, we address the fundamental question, How to sell it?
We enable you to define a unique positioning for your brand in the massive spectrum of the web and work through the fundamentals to reach the most advanced level of marketing that individualizes your brand interaction. You do not just opt for one digital marketing service; you filter for the appropriate design method.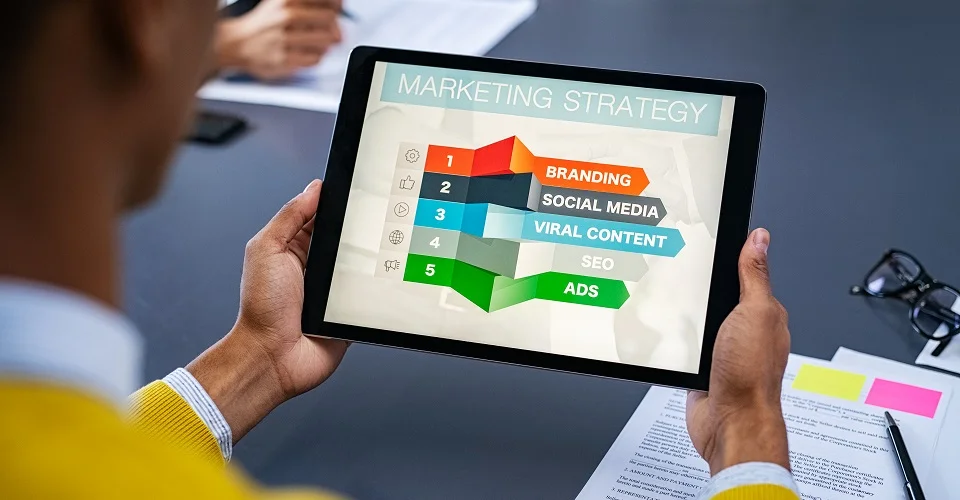 Our approach runs through the questions you answer
What is the goal of your digital marketing endeavors?
Where does your business stand now?
Where is your emphasis on digital marketing services?
What is your assigned budget?
Where do you expect your brand to grow?
What did not work for you in the past?
What resources/tools do you use regularly?
This is the initiation of our digital marketing strategy development, where we create the foundation of our collaboration and move ahead with an emphasis on certain elements that determine the strategy ahead:
Brand research
After getting a clear picture of your business objectives, we do primary research into the brand's existing digital presence. This includes competitor analysis, customer interaction, customer relationship management, online reputation, existing marketing efforts, industry trends, and more.
Engagement Processes
Engagement is the deal-breaker or deal-maker in expanding a brand's reach to diverse markets. We place our finger over the existing content strategy, SEO strategy, social media profiles, and more to determine the quality.
Lead Attraction & Overall Performance
Success knocks on the door through digital marketing when inbound leads escalate. We identify the most likely areas to generate leads. We optimize the platform, channel, or medium to concoct a better method based on errors and gaps.
The gaps and adjustments
A skilled marketer knows how to identify and fill voids with insight. Research metrics help us identify where to place the best bet. As your handyman, we assist with content marketing and brand promotion. This is where we deploy technology to magnify implementation and track performance.
We plan to accelerate your business's growth using this approach. The journey continues as we continue to track progress.